Categories: Droid
I haven't updated here in a while, because not a lot changed for a few years. However, in 2014 I did a lot of the remaining work that was needed on the legs, and in 2015 I also managed to close up some of the holes in his back and add a a magnet attachment system for the rear skin. Lately the Air-&-Scare has been the impetus to get some work done, so both of those "annual" updates happened in October. This year marks the point where R2 no longer has any gaping holes, and is effectively "complete", even if he's never actually "finished". There are some minor details left to add, and some improvements to make in other areas, but nothing is obviously missing anymore.
This year we had some great events. The "Air & Scare" at the Udvar Hazy Air & Space Museum was a success (picture below), and I was also able to grab some video again at the Shore Leave convention.
Click for: Air & Scare pictures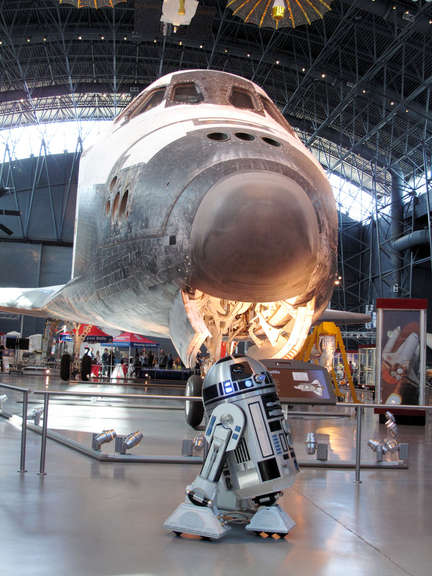 Categories: News
I had a great time at Shore Leave this year. Instead of bringing R2, I did something different, and made N7 armor from Mass Effect, to enter into the costume masquerade. I got the "Best Workmanship" award, which was pretty cool.
Click here: (Photo Gallery) to see more pictures.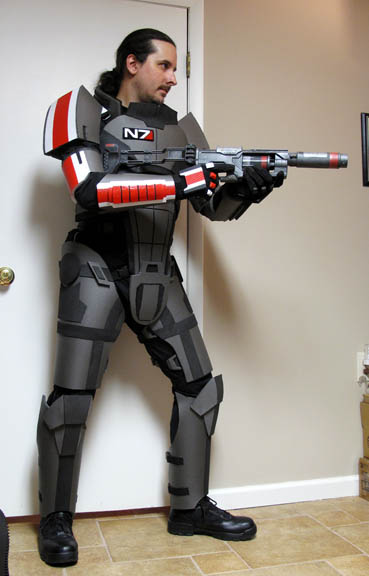 Categories: News
I don't post updates often enough. There really isn't anything new on the website these days. Check out the blog link on the left for more updates than the "news" section shows.
Categories: Halloween2012
Well, despite it being a nice day today, we have reports of the "Frankenstorm" approaching, and we're supposed to be in the thick of it for two days leading up to Halloween. Considering my display is not very wind/rain proof, and it takes several hours to put up, I'm probably not going to have much of a display this year. I'll still put something out. But considering there may be 50 MPH gusts, I'll have to tie things down.
Categories: Droid
We had a great time at Shore Leave 34, in August 2012 (this past week, as of this writing). Unfortunately, R2 took some damage while sitting in storage, so I had to spend some time doing some really quick repairs before this event. No other work was done in the intervening year since Shore Leave 33, since he's been sitting in storage to make room for my wife, who I married soon after the convention last year.
I also managed to do some more damage to him during the con. You'll notice in the below video that he's missing one of his ankle cylinders. I managed to bump a wall and knock it off before filming.
Categories: Droid
We're back from SheVaCon in Roanoke VA. We had a good weekend, even though only two droids showed up this time. I captured some video with my iPhone:
One of these days I'll get around to actually finishing him. What's left to do isn't overly complex, but it'll be time consuming. The main thing is that I need to take his feet apart and re-glue everything in them. Then I can finally finish painting the legs and feet. That will then allow me to attach some of the last detail pieces, like the foot hoses, battery box harness details, foot strips, ankle cylinders (which are temporarily stuck on for the moment), and leg struts.
I need to take the back skin off so I can do some of the frame adjustments that will let me install the power coupler and octagonal ports on the back.
I also need to finally add a large data port, make a new charging port for the head, and move the body charging ports to a more convenient location.
But other than those things, he's mostly done. :)
Categories: Fun
I've added some new pages to showcase some fun with photoshop:
Categories: News
The "Weather Machine" is offline now. After nearly 8 years, some of the components are starting to fail, and I haven't really been using it for anything. I think it's time to let it go.
However, the downloads are still available, so that others that want to make one can still find the info here.
Categories: Halloween2010
The scarecrow has been split into two separate props. I put the old head onto a skeleton body, and made a new head for the scarecrow. I may yet do some more finishing touches, but I just got done painting for the most part:
The color match between the skull and body on the skeleton looks closer in person. Still not identical, but pretty good. And the tongue on the scarecrow is less blue in person, as it's speckled. The camera really picked it up.
Categories: Halloween2010
I've fallen WAY behind this year. Usually I start on something before October, and post a few things here on the website over the course of the year. It may not be much, but I usually start the month with something already underway, so that when the big night arrives, I have a few new toys to play with.
In 2005, I paint-aged Herb, and built the grave-plot and experimented with lighting for the first time.
In 2006, I expanded the lighting considerably, built the scarecrow, started on a second skeleton (though didn't do much with him), bought the cauldron, made a set of artificial jack-o-lanterns, and put the talking skulls together. Whew.
In 2007, I corpsed up that second skeleton and made him all crispy, and added the flying crank ghost.
In 2008, I bought my piece-of-crap coffin, corpsed up a third skeleton, improved the lighting slightly, bought a cheap fence, and built the spooky tree.
In 2009, I corpsed up the fourth skeleton. Since the FCG motor died, I replaced that right after the season wrapped up.
And now, in 2010? So far I'm rigging up AC power so that I don't have to go around popping batteries on all those skeletons. I'm working on LED candles as well, so visually that might be the only new prop this year.
It's a slow year. Last year was slow as well. Hopefully it'll pick up after I move.
Categories: Halloween2010
First spook of the season. My window is haunted!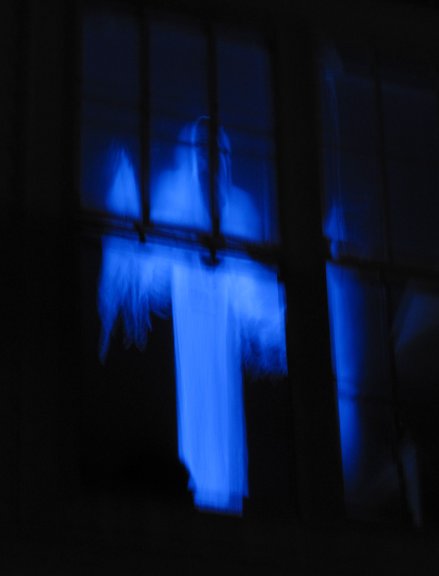 Too bad the new FCG motor is very loud. The old one was silent, but died on Halloween night last year.
Categories: Droid
I found more video of me/R2 at last year's Shore Leave (2009):
Categories: Droid
I forgot to post this video back in October, so I'm posting it now. I only captured a small amount of video while there was room and time to do so. The kids tend to swarm the droids even more than the video shows, so normally they can't move much and you can't film very well. Often, we just leave them behind the tables because it's almost impossible to do anything with them, and the kids get extremely grabby.
R2 also just attended Shore Leave 32 this past weekend, and I captured some video of him driving around and talking, towards the end of the event when I was able to do so without being cornered for questions and photo-ops (though don't get me wrong, that's most of the fun!)
You can see a huge difference between the two videos, now that R2 has his aluminum skins, foot shells, etc.
Categories: Droid
Made some pretty good progress at our droid building day at Andy's this past weekend. Over the last few months, I've worked here and there on the legs and feet, which I have assembled and started painting. They need a lot of work still, but some I can put off and just get it thrown together for now. The new skins need a good attachment method, but they are nearly visually complete. I have some rewiring to do, more detail pieces to add, etc... but finally, there's a light at the end of the tunnel, and it's not an on-coming Star Destroyer.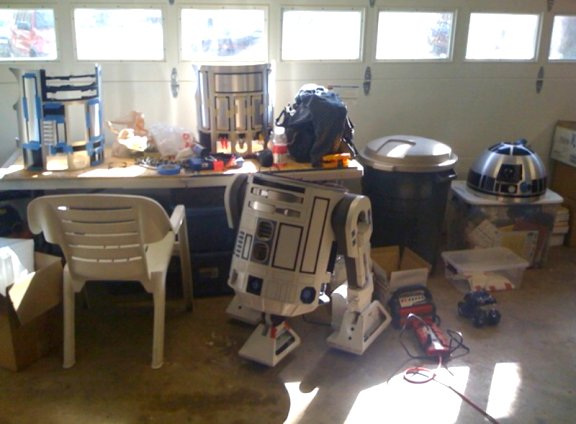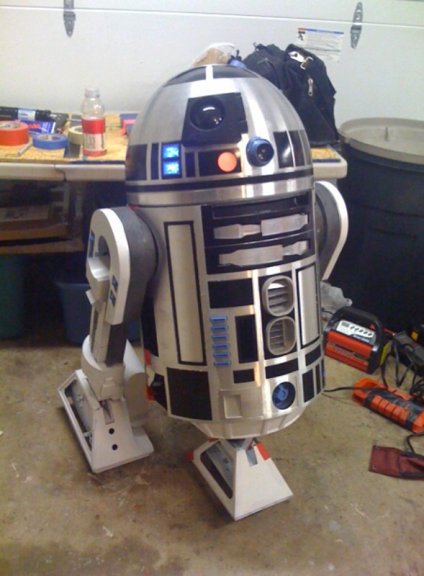 Categories: Halloween2009
Finally making some progress. Skeleton has the base coat and webbing, but still needs final painting and eyes. I'll probably still be working on him after most of the rest of the display is up.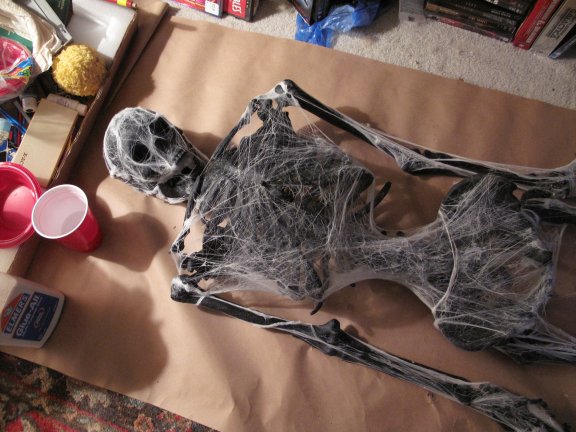 Categories: Halloween2009
October is almost over, and I have no progress pictures. Oh well. I'm still working on getting that new skeleton ready, but I just haven't completed anything else.
I'll have my display up this week, just not much new this year.
Categories: News
Made a promotional video for the forum I administrate:
Categories: Halloween, Halloween2009
Well crap, September is soon to draw to a close, and I have yet to update ONCE here on my Halloween updates this year! I'm getting a stupid-late start on Halloween this year, in that I've bought my new skeleton but haven't worked on it, and haven't planned a single other thing yet.
My goal is always to add one new thing each year, and over the last few years I've done very well by adding TWO. I don't know if that's going to happen this time or not.
My new skeleton is going to be a duplicate of last year's, although I want the color to come out better as more of a light grey, instead of the bright white I used last time.
Last year's coffin is in severe need of repair, as it was falling apart under its own weight while on display last time. It's crap. I had gotten it to stand in until I had the time to build a proper toe-pincher, so I'm not sure if I'll just get off my butt and make one or try to fix this one up a bit. We'll see.
In the meantime, fear not! I'm not giving up... but with this season's thumb injury and other projects that have kept me busy, I just haven't had time for this OR the droid for the last couple months!
Wow, did I develop a life outside these hobbies somewhere along the way? :)
Categories: Droid
Other people's videos of my droid from Shore Leave:
Categories: Droid
R2 went to Shore Leave!